2022 EMMYS PREDICTIONS:
OUTSTANDING LEAD ACTOR IN A LIMITED SERIES OR TV MOVIE
Is Colin Firth about to do a "double". Colin Firth just might be on course to win both an Oscar and an Emmy for work he has released in just the last month. Early word is very promising for Colin Firth's work on HBO's "The Staircase" alongside Toni Collette, which could be a latecomer to a race that has so far been dominated by Michael Keaton's work in Hulu's "Dopesick." – Variety.

And his work in the WW2 movie "Operation Mincemeat" now playing on Netflix is exceptional and certainly Oscarworthy.
*BEST ACTOR IN A LIMITED OR ANTHOLOGY SERIES OR TV MOVIE*
Frontrunners
Michael Keaton (Dopesick) — podcast
Colin Firth (The Staircase)
Oscar Isaac (Scenes from a Marriage) — podcast
Andrew Garfield (Under the Banner of Heaven) — podcast
Sebastian Stan (Pam and Tommy)
– The Hollywood Reporter
Oscar for Colin Firth for Operation Mincemeat?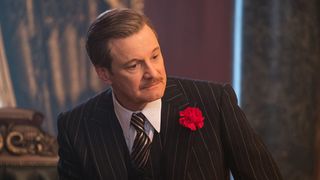 Netflix just released, Operation Mincemeat, starring Colin Firth, Matthew Macfadyen, and Johnny Flynn.
Set in 1943 when things were make or break for the Allies fighting Hitler in Europe, the movie is based on real events. The story follows intelligence officers Ewen Montagu (Firth) and Charles Cholmondeley (Macfadyen) who come up with a great "headfake" strategy involving, of all things, a dead man. Their plan helped turn the tide of the whole war and may have changed the course of history.
Kelly Macdonald, Jason Isaacs, and Mark Gatiss also star and the movie was directed by John Madden. His previous work includes the Academy Award-winning Shakespeare in Love (in which Firth also starred) and The Best Exotic Marigold Hotel. Operation Mincemeat is the director's first movie since 2016's Miss Sloane with Jessica Chastain. The movie comes from the same production company as The King's Speech, the 2010 historical drama that won Firth the Oscar for Best Actor for his portrayal of King George VI.
And if that isn't enough Colin Firth news for you. Maybe another Oscarworthy performance in the works?
We at least know a little bit about Sam Mendes's follow-up to 1917, called Empire of Light, which stars Olivia Colman, Micheal Ward, and Colin Firth, and is said to be a love story set in a cinema in an English coastal town in the 1980s, but that's about it. – Vanity Fair

Firth is an Oscar, Golden Globe, BAFTA, SAG and Critics Choice Award winner who recently starred opposite Colman in Eva Husson's Sony Pictures Classics drama, Mothering Sunday—toplining Harry Macqueen's romantic drama Supernova with Stanley Tucci. The actor will next be seen John Madden's WWII drama Operation Mincemeat and the HBO Max series The Staircase. He earned his Oscar in 2011 for his turn in Tom Hooper's The King's Speech, having scored his first nom the year prior for his starring role in Tom Ford's A Single Man.