There's plenty of TV to look forward to, ranging from returning favorites like Succession to highly anticipated new series like The Falcon and the Winter Soldier. Here are the shows to put on your radar, and for even more things to watch in 2021, check out our previews of the upcoming year in movies, on Netflix, and on HBO Max.
'Behind Her Eyes' | NETFLIX
Behind Her Eyes
Netflix, February 17
Sarah Pinborough's popular novel is getting the miniseries treatment. The thriller should be full of salacious twists over the course of six episodes, following a single mother whose life is turned upside down when she finds herself in an affair with her new psychiatrist boss, and later befriends his wife.
(Watch the trailer)
For All Mankind (Season 2)
Apple TV+, February 17
On its debut, For All Mankind set itself apart from the usual historical astronaut drama—for one thing, it begins with Soviet Russia landing a man on the Moon first. Kicking the American Space Program into high gear, this loss inspires a group of astronauts and engineers to go bigger than they'd planned to outdo the USSR in this alternate history take on the Space Race.
(Watch the trailer)
House Hunters: Comedians on Couches Unfiltered
Discovery+, February 17
Have you ever wondered what Dan Levy or John Mulaney's interior design taste is? Or wanted to see Seth Rogen roast somebody else's taste? This House Hunters spin-off, one of the many shows headed to the new streaming service Discovery+, finds comedians and other celebrities helping new homeowners pick out their next pad.
'Tell Me Your Secrets' | AMAZON STUDIOS
Tell Me Your Secrets
Amazon Prime, February 19
With a title like that, you know you're in for some sort of smoldering mystery. The series stars Lily Rabe as a woman named Emma Hall who's entering witness protection program—which doesn't work out so well when another woman (Amy Brenneman) believes Hall has to do with the disappearance of her daughter and sends a predator out to look for her.
(Watch the trailer)

Allen v. Farrow
HBO, February 21
The team who directed HBO's documentary On the Record, about the accusations against hip-hop mogul Russel Simmons, are back with another high-profile doc. This four-part docuseries, produced largely in secret, chronicles the allegations against Woody Allen and the custody battle between him and Mia Farrow that followed.
(Watch the trailer)

Supervillain: The Making of Tekashi 6ix9ine
Showtime, February 21
This three-parter examines how the social media age contributed to the rise of highly controversial rapper 6ix9ine, born Daniel Hernandez, and the system that encouraged his behavior.
(Watch the trailer)

Beartown
HBO, February 22
This Swedish series that aired on HBO Europe is making its stateside debut. An adaptation of Fredrik Backman's novel, Beartown centers around a small town where youth hockey is everything, but starts to pull the community apart when the teenaged star player commits an act of violence.
(Watch the trailer)

Unplugged Presents: BTS
MTV, February 23
If you haven't heard, MTV's iconic Unplugged series is back. Specials have been released on and off over the course of the past few years, but Miley Cyrus brought it back most recently in fall 2020 with her backyard sessions. You likely won't be able to stop hearing about it on social media in the next few weeks, though, now that the literal biggest K-pop act in the world is bringing their latest album to the live show.
(Watch the teaser)
'Ginny & Georgia' | NETFLIX
Ginny & Georgia
Netflix, February 24
A dramedy about the titular mother-daughter duo—the daughter Ginny often being much more mature than her mother—who move to a small town for a fresh start, which proves to be challenging when secrets from Georgia's past resurface.
Punky Brewster
Peacock, February 25
Did you think Saved By the Bell was the only reboot headed to NBC streaming platform Peacock? Of course not! There's always more nostalgia to go around, including some for Punky Brewster. Soleil Moon Frye is reprising the role—no longer a pigtailed child, but all-grown-up, obviously—playing Punky as a single mom of three.
(Watch the teaser)
78th Annual Golden Globe Awards
NBC, Feb 28
The Golden Globe nominations are a bit confounding this year, but that won't stop you from tuning into the major film and TV award show yet again. This year, the ceremony will be bi-coastal with Tina Fey hosting from NYC and Amy Poehler from LA.
Debris
NBC, March 1
Fringe executive producer J. H. Wyman's latest sci-fi series is crash landing onto network TV. Debris follows a British agent and an American agent as they team up to investigate what appears to be the wreckage of some sort of space craft that shattered across Earth and is having bizarre side effects on people close to it.

The Real World Homecoming: New York
Paramount+, March 4
The news of Paramount+ was exciting for one reason alone: the ability to finally watch reruns upon reruns of The Real World. (Kidding. Sort of.) Mega fans of the series can get even more excited, though, because an all-new installment that reunites the original cast from Season 1 is on the way.
'Genera+ion' | HBO MAX
Genera+ion
HBO Max, March 11
Generation is a teen series co-created by a teen, Zelda Barnz, daughter of showrunners Daniel and Ben Barnz—so this coming-of-age series might just be an accurate portrayal of Gen Z. (Lena Dunham is also on as producer.) The show follows a group of high schoolers discovering their sexualities in a conservative, status-obsessed Orange County community.
(Watch the trailer)

The One
Netflix, March 12
Aren't we all just looking for the one? This series, based on John Marrs' sci-fi novel, imagines a future where finding that predestined soulmate is as easy as looking at a DNA sample.

63rd Annual Grammy Awards
CBS, March 14
It's music's biggest night, baby! Of course, there's a lot of snubs to get worked up about, but there are a lot of exciting nominations this year, too. Like nearly every awards show, this one got pushed back from January, but it'll go down with Trevor Noah as host this March.

Waffles + Mochi
Netflix, March 16
The description for Michelle Obama's new Netflix show is a little Mad Libs-y: Former First Lady Michelle Obama is starring in a cooking-slash-food-slash-travel show with two puppets named Waffles and Mochi, as well as a ton of celebrity guests. But we digress: It looks seriously adorable.
(Watch the trailer)

Country Comfort
Netflix, March 19
This show sounds like the country western version of The Sound of Music. TV musical fave Katharine McPhee of Smash fame plays a struggling country singer who takes a job as a nanny for a cowboy named Beau, and finds hope again when she forms a band with his kids. Yeehaw!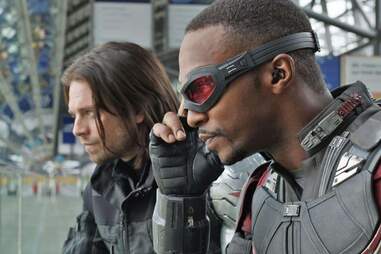 'The Falcon and the Winter Soldier' | DISNEY+
Disney+, March 19
At the end of Avengers: Endgame, Chris Evans' Steve Rogers handed over his shield to Anthony Mackie's Sam Wilson, essentially crowning Wilson as the next Cap. Presumably, this Marvel show will feature Sam and Sebastian Stan's Bucky Barnes, Cap's best bro, teaming up to fight Helmet Zero and other bad guys.
(Watch the teaser)
Genius: Aretha
Nat Geo, March 21
Nat Geo's Genius biographic anthology series previously covered Albert Einstein and Pablo Picasso, and now it's turning its focus to one of music's greats, Aretha Franklin. Cynthia Erivo (Harriet, Widows) is taking on the iconic soul singer, meaning she'll definitely be putting some R-E-S-P-E-C-T on her name.
(Watch the trailer)
Superstore
NBC, March 25
It's sadly time to close the doors on Cloud 9. After six successful seasons, the workplace sitcom starring America Ferrera is wrapping up with a special one-hour finale this March.
'Invincible' | AMAZON STUDIOS
Invincible
Amazon Prime, March 26
Another one of Walking Dead comic book creator Robert Kirkman's comics is getting the TV treatment. Invincible is a star-studded adult animated series starring Steven Yeun as the voice of Mark Grayson, the son of the most powerful superhero in the world, Omni-Man (played by J.K. Simmons), who begins to develop powers of his own.
(Watch the teaser)

The Mighty Ducks: Game Changers
Disney+, March 26
The Ducks still got game! In fact, the team from the beloved '90s movie have so much game that they're no longer underdogs in this reboot, but a highly selective, elite crew of youth hockey players. That's what inspires a kiddo who didn't make the cut to start his own team with none other than original Ducks coach Gordon Bombay. Yes, Emilio Estevez is reprising the role, and Lauren Graham also leads the cast. No cake eaters here!
(Watch the teaser)

City on a Hill (Season 2)
Showtime, March 28
Showtime's Boston-based crime thriller starring Kevin Bacon and Aldis Hodge is back for Season 2.
(Watch the trailer)
Law and Order: Organized Crime
NBC, April 1
As much as Law and Order devotees love SVU and Olivia Benson, they know the show just hasn't been the same since Elliot Stabler left. Thankfully, though, Christopher Meloni is reprising the bad boy cop role in a new Dick Wolf-created series with the officer returning to the NYPD's organized crime unit.
(Watch the trailer)

Atlantic Crossing
PBS, April 4
This PBS Masterpiece series tells the story of the relationship between Norweigen Crown Princess Märtha and President Franklin D. Roosevelt (played by Sofia Helin and Kyle MacLachlan), as he took in the royal and her family into the White House as the Nazi's occupied Norway, and she influenced his political involvement in WWII.
(Watch the teaser)

Hemingway
PBS, April 5
Ken Burns' latest subject is none other than literary legend Ernest Hemingway. The three-part documentary not only delves into the writer's iconic career but the mythology and tragedy behind his life.
(Watch the trailer)
Chad
TBS, April 6
Chad is a coming-of-age comedy about a 14-year-old Persian-American boy navigating his first year of high school. Created by SNL alum Nasim Pedrad, the show has a bit of an unconventional twist, as she also plays the titular Chad, a la PEN15.
(Watch the trailer)
Exterminate all the Brutes
HBO, April 7
I Am Not Your Negro filmmaker Raoul Peck's latest is a four-part docuseries that's pieced together with new documentary material, archival footage, animation, and recreated scenes to examine just how exploitative and devastating the effects of European colonialism was on the globe and indigenous peoples.

Home Economics
ABC, April 7
Topher Grace is headed back to the sitcom world. He's among the cast of this comedy about three siblings—one who grew up to be ultra-wealthy, one who grew up to be middle class, and one just getting by—and how their class affects their relationships.

Godfather of Harlem
Epix, April 18
Bumpy Johnson's not relinquishing control of Harlem anytime soon. The historical thriller starring Forest Whitaker returns, with his role as the famed mobster battling the Italian crime bosses for control of an international heroin pipeline.
(Watch the trailer)
'Mare of Easttown' | MICHELE K. SHORT/HBO
Mare of Easttown
HBO, April 18
Kate Winslet stars in this HBO limited series murder mystery. (Her character's name is Mare. She is the "Mare" in question and presumably hails from some place named Easttown.) It's directed by Craig Zobel, whose most recent project was the troubled film The Hunt.
(Watch the teaser)

Sasquatch
Hulu, April 20
Looks like you already have your 4/20 plans carved out for you. This three-episode docuseries from the Duplass Brothers investigates an urban-legend-cold-case hybrid as an investigative journalist returns to the Redwoods decades after he learned of a triple homicide that took place there in the early '90s and was thought to be the work of Bigfoot. (The fact that he learned of this case while visiting a marijuana farm may or may not be important).

Shadow and Bone
Netflix, April 23
Netflix has another big-budget fantasy series on the way. This one's inspired by Leigh Bardugo's popular books, the Grisha trilogy, and set in a frightening world of perpetual darkness, where one teenaged orphan discovers she has a power that may be able to help save her nation.
(Watch the teaser)

93rd Academy Awards
ABC, April 25
After a weird year of movie delays and mostly streaming or VOD releases, the Oscars will finally commence (after its own delays) to honor the films that did see a release from 2020-early 2021.

The Nevers
HBO, April TBA
This HBO drama features Victorian women with supernatural powers—so think Buffy meets, I don't know, the Brontës. Olivia Williams, Laura Donnelly, and Ann Skelly play three of the so-called Nevers, while Nick Frost, Tom Riley, and Denis O'Hare also turn up.
(Watch the trailer)
Shrill (Season 3)
Hulu, May 7
Aidy Bryant's lovable comedy for Hulu is coming to an end with its third season this spring.
'Atlanta' | FX
2021 Dates TBA
FX
Though it's not totally clear what the theme of the landmark tenth season of Ryan Murphy's campy horror series will be (maybe mermaids?), tons of AHS favorites—including Sarah Paulson, Evan Peters, Kathy Bates, and many more—are returning to make this cryptic seaside screamfest a special one. Get excited for whatever cast addition Macauly Culkin's role will be, and treat all of this as a creepy amuse bouche for Murphy's spinoff series American Horror Stories—plural—that's coming down the road.
FX
As a social commentary on race and class masked as a show about a rising rapper that frequently experiments from episode to episode, it's hard to say, without a trailer, what exactly will happen in the upcoming seasons of Atlanta. One thing is for sure, though: It's likely to continue following the ceaseless struggle of Earn and Al trying to make it and failing miserably at both the hands of the music industry, systemic racism, and Earn's own poor decision-making. Expect to see that all play out on Paper Boi's first-ever tour, since Season 2 ended just as he and Earn were about to take off on a flight to Europe to join Clark County on tour.
Barry (Season 3)
HBO
Bill Hader's Barry has established itself as some of the most ambitious, darkly comedic shows out there. Chances are, Season 3 is going to be depressing as hell. After taking out a monastery of gangsters he murdered purely out of rage in the Season 2 finale, there's now no denying that the titular hitman bitten by the acting bug is a Bad Guy. He is not a reformed killer; he's a killer-killer. With the cliffhanger that Barry's acting coach Gene Cousineau (Henry Winkler) realizes his student's secret as he's being (wrongly) arrested for his cop girlfriend's murder, Barry should come back with a funbag of bleakness.
Better Call Saul (Season 6)
AMC
When it debuted in 2015, Better Call Saul stood under the bald, fedora-sporting shadow of Breaking Bad, referencing Walter White's crimes and hinting that it would catch up to that show's iconic ending. Now, closing in on its 13-episode final season, the prequel series stands on its own as a vivid, wrenching crime series. Given the show's level of creative consistency, it's hard to imagine an ending that fails to satisfy.
The Boondocks
HBO Max
Aaron MacGruder's hilarious Adult Swim anime-inspired staple is getting rebooted for HBO's streaming service on a two-season order and a 50-minute special. Details are light, but we do know that Granddad and his grandsons, Riley and Huey, will have to deal with the neo-Nazis that have established a tyrannical regime in their comfortable suburb. The Boondocks never tiptoed around its bold leftist and racial politics, and we can't wait to see what's in store with MacGruder back as showrunner after stepping away in Season 4.
Bosch (Season 7)
Amazon Prime
As Amazon Prime readies its Lord of the Rings series, undoubtedly its biggest attempt to court the mainstream, the service will say goodbye to its longest-running show. Bosch has rarely picked up awards attention, appeared on critic's top 10 lists, or generated buzz on social media, but this character-driven police drama starring Titus Welliver is as sturdy and reliable as TV shows get. The final season, which reportedly draws its plot from Michael Connelley's The Overlook and Dark Sacred Night books, should be a fitting sendoff.
'Dead to Me' | NETFLIX
Netflix
It's time for Ben's (James Mardsen) dark secrets to take front-and-center in the upcoming season of this addictive series. Stock up on plenty of wine before the Thelma and Louise of streaming—Judy (Linda Cardellini) and Jen (Christina Applegate)—come crashing back onto your screens with their sometimes murderous intent.
Netflix
It's senior year for Justien Simien's Dear White People and the Black students fighting the embedded institutional racism at the mostly white Winchester University. Before graduation day (er, the finale), radio host Sam White (Logan Browning), young politico Troy Fairbanks (Brandon P. Bell), investigative journalist Lionel Higgins (DeRon Horton), and co. clash with the mysterious secret order that maintains the university's prestige at all costs.
Evil (Season 2)
CBS
The clever, kooky, and genuinely scary show from The Good Wife creators Robert and Michelle King basically begged for a second season with the first's cliffhanger. Katja Herbers's Kristen Bouchard, a forensic psychologist helping priest-in-training David Acosta (Mike Colter) determine whether there's a clinical explanation for strange events or something demonic is afoot, might be—that's right—evil.
Foundation
Apple TV+
Isaac Asimov took the world of science fiction by storm when he published his novel (and plenty of followups) about a vision of the future in which every major political event is predicted and planned for in advance by "psychohistorians," who have turned seeing the future into a science. This adaptation stars Lee Pace as the Emperor of the Galaxy and Jared Harris as the brilliant Hari Seldon.
HBO Max
The new reboot of the 2007 CW series isn't another chronicle in the scandalous lives of Serena van der Woodsen and Blair Waldorf, but it will introduce a new crop of the Manhattan (and possibly even Brooklyn) teen elite and air all of their dirty little secrets in blog (Twitter? TikTok?) form. Original co-producers Josh Schwartz and Stephanie Savage are running the show.
Hulu
Escaped handmaid June has been planting the seeds for a full-blown revolution against the tyrannical Gilead, and Season 4 looks like it'll blow the floodgates off its hinges to make that crusade more realized.
HBO
"If life doesn't look like how you imagined it, does that mean it's a success or a failure?" said producer Prentice Penny about the big theme of Insecure's upcoming season. With Issa and Molly's BFFship in a rocky place, and Issa in an even more confusing situation with boy-of-the-season Lawrence, the next installment is poised to be the most insightful batch of episodes to date.
'I Think You Should Leave with Tim Robinson' | NETFLIX
I Think You Should Leave (Season 2)
Netflix
What delights could the second season of Tim Robinson's, dare-we-say, comedy masterpiece contain? Honestly, we couldn't even begin to predict, but if it's anything like the first set of sketches, it will be absolutely incredible.
Disney+
After escaping through time in Avengers: Endgame, Asgard's exiled trickster god accidentally falls in with the Time Variance Agency. The secretive organization keeps track of the various timelines in the Multiverse, tweaking some and eliminating others it deems too dangerous to exist, generally keeping the citizens of the timelines from traveling back and forth in time, and changing the past or the future. How this all ties in with the larger Marvel Cinematic Universe's Phase 4 storyline is anyone's guess.
(Watch the trailer)
Amazon Prime
The first of five very expensive Lord of the Rings seasons is headed to Amazon in 2021 as the company tries to serve up the next Game of Thrones before the next Game of Thrones (House of the Dragon) hits HBO. Set in the Second Age, this series will take place long before Frodo was running around The Shire, so it's a gamble to suss out what will actually take place in this Middle Earthian prequel.
Midnight Mass
Netflix
Director Mike Flanagan can't stop churning out that creepy Netflix content. In August 2020, before The Haunting of Bly Manor hit the streaming service in October, the spooky filmmaker started shooting this new series that takes place on a desolate island and follows disturbing events that start to unfold among the community there after a mysterious young priest arrives.
Nine Perfect Strangers
Hulu
Big Little Lies fans, assemble. This is another adaptation of one of BLL author Liane Moriarty's works, and it brings back showrunner David E. Kelley and Nicole Kidman, the latter of who stars as the director of a wellness resort where nine (seemingly perfect) strangers check in for a 10-day retreat that doesn't turn out to be like what any of them expected.
'The Old Man' | FX ON HULU
The Old Man
FX on Hulu
Jeff Bridges, a major movie star who has yet to make a play for prestige TV glory, stars in this thriller about a retired CIA officer who wants to live "off the grid" but keeps getting pulled back into the shady world he thought he left behind. Adapted from a novel by veteran genre writer Thomas Perry, and co-starring John Lithgow, Amy Brenneman, and Alia Shawkat, the show—think True Grit meets The Americans—is still scheduled for 2021, even after Bridges announced during production that he'd been diagnosed with lymphoma.
(Watch the trailer)
The Other Two (Season 2)
HBO Max
It's been a long wait for the second season of this still underrated show, which first premiered on Comedy Central in early 2019. Hopefully the story of the two aimless 30-something siblings of a tween pop star will gain more of an audience on HBO Max where its amazing songs can be fully appreciated.
Ozark (Season 4)
Netflix
The final season of the tense Missouri-set money laundering saga will be nothing short of shocking, we expect. The Byrdes keep getting deeper in bed with dangerous people—now, the cartel boss Omar Navarro and the FBI—and it's only a matter of time until the blocks crumble beneath them, sending their family and associates into a freefall.
Netflix
Our Peakies! The biggest question at hand after a doozy of a fifth season in Steven Knight's English mob series is: Who betrayed Tommy Shelby and caused his plan to take out political rival and literal fascist Oswald Mosley to fail? (We have some thoughts.)
Pieces of Her
Netflix
Toni Collette leads the cast in this adaptation of Karin Slaughter's popular thriller about a woman who tries to stop an active shooter, and the effects it has on her relationship with her daughter, who feels she witnesses a change in her mother after the traumatic interference.
Pose (Season 3)
FX
The third season of Pose shut down production at the start of the pandemic and gave the supplies from medical sets to Mount Sinai. Ryan Murphy, in announcing the donation, revealed that in the upcoming episodes, Blanca will be working as an AIDS counselor. As for what else is in store that remains to be seen, but Pose remains one of the most big-hearted, groundbreaking series on TV.
Station Eleven
HBO Max
This adaptation of Emily St. John Mandel's 2014 speculative novel, which followed a troupe of actors and musicians as they traveled an America ravaged by a flu pandemic, doesn't exactly sound like frothy post-2020 escapism. But, given the source material, it should be different from many of the more brutal dystopian tales of recent years. With Mackenzie Davis of Halt and Catch Fire in the lead role, Patrick Somerville (The Leftovers) serving as showrunner, and Hiro Murai (Atlanta) behind the camera, this should be a special one.
Netflix
The Hawkins crew has to figure out how to get Hopper out of Russia in the next season of Stranger Things, presumably digging into its '80s-ness with its own interpretation of the Cold War.
'Succession' | PETER KRAMER/HBO
HBO
Who will win a kiss from daddy in this season of corporate heir war Succession? It certainly won't be Kendall Roy, who hung his father Logan out to dry on national TV in the last minutes of the finale over the gross misconduct handling Wayco Roystar's cruise ship scandal. We're delirious to know how this nuclear bomb will rattle the many circles of the loathsome, ultra-wealthy Roy family.
Apple TV+
Apple TV+'s Ted Lasso, a fish-out-of-water story (based on an ad campaign), turned out to be a veritable hug of the series and one of the more surprising quality TV releases of 2020. With Jason Sudeikis' Ted—a jolly Kentuckian who is hired to coach the Richmond Premier League football club by its owner in a plot to humiliate her ex-husband—managed to win over his footie crew with infectious, if naive, optimism. Even after the finale's loss bumped the team down a league, there's so much potential in this puckish underdog story.
Tokyo Vice
HBO Max
The pitch for this HBO Max original, which was delayed by the pandemic but should debut next year, is pretty simple: Michael Mann crime drama. Following an American journalist (Ansel Elgort) as he reports on corruption in Tokyo's elite vice squad in the late '90s, with help from a detective played by Ken Watanabe, Tokyo Vice sounds like a potentially captivating mix of The Insider and another famous Mann production with the word "Vice" in the title. Sign us up!
Tuca & Bertie (Season 2)
Adult Swim
The beloved buddy comedy from BoJack Horseman illustrator Lisa Hanawalt, and starring Tiffany Haddish and Ali Wong as the titular anthropomorphic bird people Tuca and Bertie, will live to see another day, thanks to Adult Swim, after being canned by Netflix after its charming first season.
Uptown
BET
This three-part miniseries documents the story of the iconic Uptown Records, which helped launch the career of huge names in R&B and hip-hop, like Mary J. Blige, Notorious B.I.G., Sean "Diddy" Combs, and others. Label founder Andre Harrell, who was previously on board as an executive producer, died in 2020, but the show is still moving ahead. Many of the details are kept under wraps, but it should pay homage to his and his label signees' legacy.
Amazon Prime
Will this series—Amazon's other bankable fantasy book series adaptation that's been in confusing development hell for years—really come out in 2021, as the oracle IMDb says? We won't hold our breath, but we are looking forward to finally seeing Robert Jordan's written vision of the Third Age, apocalyptic Breaking of the World, and hunt for the Dragon Reborn brought to life on the silver screen.
Netflix
Toss another coin to your local Witcher: Henry Cavill's brooding, wandering monster hunter Geralt of Rivia is coming back this year with all the "hmms" and "fucks" you could hope for. Video game and book series fans should be in for a little treat—we're betting Season 2 is adapting the first book of the main Witcher series, Blood of Elves. Ciri could be much older; Yennifer should still be on a mission to become the greatest sorcerer; Jaskier, without a doubt, will still be penning his annoyingly catchy bard songs. You can't escape destiny, Geralt.
You (Season 3)
Netflix
Murderous creep Joe (Penn Badgley) sets his eyes on a new target of obsession: blonde neighbor Natalie, who he peeped on in her backyard, engrossed in a book he almost certainly has at least five opinions on. Such wandering eyes when his girlfriend, the equally bloodlusting Love (Victoria Pedretti), is so pregnant! For shame, Joe. Season 3 will also feature an ensemble of the finest L.A. stereotypes, including a wellness guru, "momfluencer," and tech venture capitalist.